Being interviewed by the media comes with an inherent third-party credibility that is unlike anything else you can produce to build your brand. While there has been a shift in the way some think about the media, there is still credibility that comes with being looked at as an expert in your industry by journalists and credible media outlets.
Earned media interviews are so powerful that over 90% of consumers trust these sources of information. It's not just about getting that one quote in an article or three minutes on television. Re-using that asset across all your platforms will ensure you're reaching multiple—and ideal—audiences.
Earned Media
Once you've been interviewed by the media, it's a springboard into building a relationship to create more opportunities. When something happens in the financial industry, and local and national news outlets need an expert, they turn to the experts in that industry who they've worked with in the past.
Being known as the expert in your industry by the media and the public will increase your brand awareness and credibility. If you make yourself available and give a great interview sharing your advice and unique perspective, the media will come back to you time and time again. Ask anyone who has done an interview, being an expert on the topic is not enough. To give a great interview, you need to prepare—know where to look, what to wear and how to talk in sound bites while at the same time inserting your company message. Even our CEO, who is a former journalist, receives coaching from our team before every interview.
If you and your team are proactively seeking out earned media interviews, you'll have a greater chance of controlling the message. But, you need to be prepared for the times a journalist might call you for a quote.
Owned Media
The audience for an earned media interview will vary depending on the outlet, but it likely won't reach all your customers or potential customers. There's power in taking that asset and using it over and over again to create multiple touchpoints for the consumer.
In earned media interviews, you don't have full control over the narrative. But a blog allows you to provide more details, background information and more of your unique insight. If you plan to backlink the article in your blog, or if the media article has backlinks to your website, you will also be improving search engine optimization.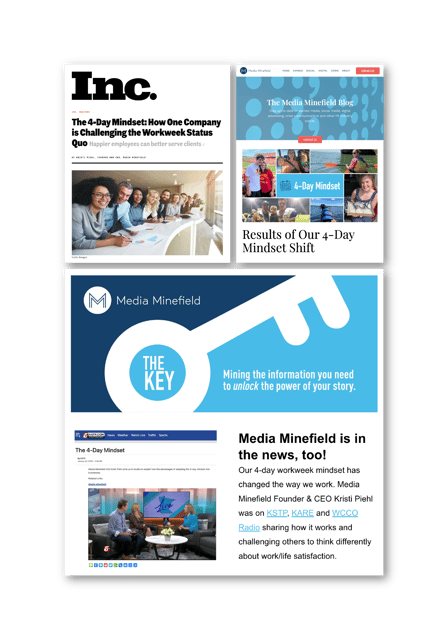 Media Minefield Founder + CEO Kristi Piehl has had many earned media interviews about 4M, our version of the four-day workweek. But most interviews are only a few minutes long. To share more, she wrote an article for Inc. and added it to our blog to share the full story behind this innovative policy, expanding on the messaging and why it is so important to the vision and mission of Media Minefield.
You should also be sending your earned media interviews in email newsletters to make sure your current and future customers are seeing the message. That's what we do in our monthly newsletter, The Key!
Social media, and in particular, Social CEOs (or your executives that are active on their social media platforms), are the new front door to your business. Active and engaging social media platforms are now a necessity for connecting with customers. Share your interviews across company and executive social media channels to leverage that valuable content.
Right now, video performs best on most channels, so take advantage of that. Don't feel like you only have one opportunity to share valuable earned media content. Squeeze the juice out of it—use it when you're short on content or if it relates to a current event. Post a #ThrowbackThursday with the interview and use the opportunity to share a slightly different message.
Paid Media
Consumers today need multiple touchpoints before making a buying decision. Reusing an earned media asset across all platforms available, including paid ads, increases the number of times someone sees or hears about your product or service and can help drive a decision.
Paid ads are used in two ways: for brand awareness and to generate leads. An earned media piece can be used in paid advertisements to target audiences that may not have seen it from the outlet or from your owned channels. With the ability to target so specifically, paid ads can put a face to the name of a company and build trust. Looking to hire new employees? Earned media assets, using paid advertising targeting, will help you reach the audience you're looking for quicker than posting a listing on a job site.
Storycentric Marketing
Any business or brand that is looking to grow should be investing money into earned, owned and paid media. At Media Minefield, we call it Storycentric Marketing. Leveraging your story, we use all of these pieces to build your brand.
You don't know when someone will need your product or service, but when the situation arises, you want to be top of mind. Until you are consistently in front of all the audiences you want to reach, your brand won't grow in the way you want. Securing earned media interviews and leveraging them to continue building credibility will put you in a position to grow your business and reach consumers in ways you could have never imagined.