Name an industry that is known for guaranteeing results, trademarked processes and a return on investment. Many different industries probably came to mind, but I'd venture to guess that public relations and marketing did not.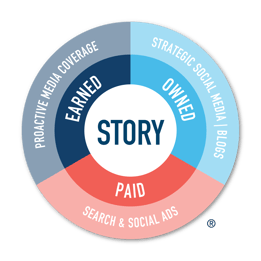 Part of my goal at Media Minefield is to be a disruptor and to do things decidedly different. Our latest trademarked service, Storycentric Marketing, is part of our ongoing strategy to create processes that deliver guaranteed results to our clients. The Storycentric Marketing trademark is our third in five years as we continue to innovate and evolve our services to meet the changing needs of the marketplace.
While I'm not a lawyer, I have seen how legally protected processes that provide value to customers are a differentiator, especially in crowded industries like public relations, marketing and advertising.
Unique in a service industry
When you think of something that's trademarked, you usually think of a product or a name, logo or tagline. I credit my mentor, Elizabeth Tumulty, for challenging me to think about our proven processes like a tech company would think about a patent. Her challenge led me to think differently about what we've created and what we know works. This led to our first trademarked process, Newsability®. We were already using the concept and had, and still have, a 100% success rate securing news interviews for our clients, but we hadn't named or publicized the process.
Our second trademark was for Positive Online PresenceSM (POP®). This protected process and service line shows our potential clients that Media Minefield can guarantee social media engagement and activation for business executives in a strategic way that helps their businesses, and it's supported by a process no other agency can claim.
Your business value from trademarking
Trademarking something that's unique to your business is not just about protecting it. From a client perspective, it makes your processes easy to understand, and clients see the benefit. At Media Minefield, our clients come into a system and process that works, and we guarantee results you can't get anywhere else.
From a business perspective, having something trademarked differentiates you from competitors. If you create something that adds value to your customers, it will add value to your business.
Our trademarked services differentiate us in our industry, and they're part of our DNA. We continue building on our unique processes of Newsability, POP and Storycentric Marketing to deliver results for our clients. I encourage service-focused businesses to create a process so unique and valuable that it can be legally protected.