Do you understand the differences between earned, owned and paid media? Most business owners and marketing experts understand the importance of paid media, or advertising, to reach a target audience. But many have a hard time understanding earned media and how to secure it.
Although owned and paid media may offer more control than earned media, they lack the level of trust that earned media provides. We're living in the age of distrust, and digital media and marketing are only successful if the audience actually believes the messages they are reading.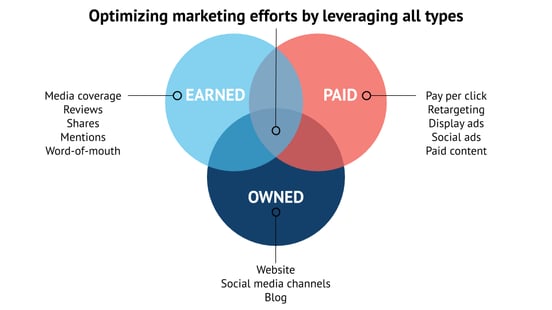 Nowadays, earned, owned and paid media are known as the digital marketing trifecta. The marketing sweet spot is the use of all three types, but companies are still underestimating the power of marketing and brand strategies that include and integrate earned, owned and paid media.
Earned Media
Earned media is where my career and my company started. Before founding Media Minefield, I spent 12 years working as a TV reporter on the earned media frontlines. Earned media is any mention of a brand, person or organization in a news outlet; it is the type of media you aren't paying for or owning. You're being interviewed because of your invention, your expertise or your event. Your brand earns media when people start talking about you (word-of-mouth).
In my current role, I pay close attention to how entrepreneurs grow their businesses from start-ups to household names. Many companies, including Banana Republic and Warby Parker, benefited from press coverage (or earned media) that significantly increased awareness, boosted sales and catapulted the business to the next level. Earned media builds trust, increases credibility and establishes authority. It gives a third-party stamp of approval. It's no surprise a valuable earned media feature can move the needle for businesses big and small.
Owned Media
Owned media is content created and owned by the writer. For example, my blog posts, like the one you are reading, are owned media because I created them. Social media posts on company channels and video content are owned media. These assets are valuable because the company or the person creating them puts out information without anyone else, like a journalist or competitor, influencing the content. Owned media allows brands to take complete control of their message and establish their own voice in the marketplace. If owned media is done well, it can and will create earned media opportunities.
Paid Media
Paid media is the kind of media you buy. This includes advertisements, sponsored content and influencer sponsorships. Paid media helps you reach your target audience and gives you the ability to fully control the final product. Paid media also offers a lot of flexibility in terms of formats and cost options. It can be a quick way to get in front of a specific audience. One major concern regarding paid media is ad fatigue. Ad fatigue is when people see ads so many times they lose interest and stop engaging with them. Ad fatigue is just another reason why it's beneficial to develop a marketing strategy that has earned, owned and paid aspects.
Based on our experience, fantastic results happen when these three types of media are used simultaneously. For example, a news interview (earned media) is boosted (paid media) on social media to reach a larger, more targeted audience. I've seen companies succeed when a piece of video featuring a new product (owned media) is used in a news story (earned media).
It takes creativity and strategy to leverage the power of earned, owned and paid media. The most important aspect of earned, owned and paid media is powerful and engaging content. If you don't have a relevant story or message, no one is going to pay attention no matter which type of media shows it to them. That's exactly why messaging is at the core of everything we do.