The job of a CEO is often a mystery, and people are fascinated by it. Maybe they aspire to be a CEO one day or they think it's the worst job ever. Either way, research shows employees and clients want to see the online presence of a CEO. When my team asked me to record my morning routine for an Instagram Reel, I trusted them and was, frankly, surprised when thousands of people viewed it. Every executive and business leader has an online reputation and if you are skeptical, Google yourself! Strategic social media allows leaders the ability to control their online narrative, which impacts business and buying decisions.
Tip #1: Share Your Story
Customers, clients, employees and future employees are interested in a real person with a real story. Whether it's the "how I got to where I am" story or anecdotes from your professional and personal journey, people want to know about the person behind a company. Take the CEO of Delta Airlines for example. The majority of his LinkedIn posts are about business and we typically see him welcoming us to a flight on a video screen, but he recently shared a post of his daughter going to college and it showed a more relatable side of him. It allows people to connect with the company and its leader on a different level.
While hosting my podcast, Flip Your Script, I've gained a new perspective on the power of stories. From unknown people to household names, guests share their stories and help to inspire and motivate others. Your life and events may feel normal and boring to you, but your stories make you relatable and human. People want to surround themselves with and do business with people who they can connect with.
Tip #2: Be Consistent With Your Content
It's important to be consistent with your content to directly relate back to your communication goals. By honing in on your message, you can build your personal brand while promoting your company's brand and values. More and more companies want to work with like-minded firms that align with their values, so consistent content can help drive their engagement.
It's also important to be mindful of your audience on each platform and tailor your message accordingly. Identify the audience you are trying to reach to ensure you're sharing content the right way with the right people. At Media Minefield, our team of trained journalists and messaging experts works with business owners and executives across the country to strategically manage social media accounts, align the messaging and optimize the content, because we've seen clear trends on different platforms with some clients. Someone's Facebook following may be made up mostly of customers. On LinkedIn, it's executives and colleagues in the industry. Your content on each platform should speak to the right audience to help attract future customers and employees.
Tip #3: Have a Plan
It's important to plan content ahead of time, yet still, be mindful of what's going on in the world and the current news cycle. It isn't sensitive and can damage your brand if you are posting about a fun office outing in the midst of tragic breaking news or a major national event.
At times, CEOs and business leaders can be viewed as out of touch or one-dimensional. Social media allows them to step out of the shadow of the boardroom and become more transparent about their values and goals, as well as their backgrounds and personal lives.
You might be shocked to know many CEOs and business leaders have teams help post and manage their social media accounts. With busy schedules, it is difficult to post and engage with comments. Yet, consistent social media activity is critical to boost engagement and attract new followers. Whether you're hiring an outside vendor or an internal employee, it's okay to ask for help to start a social media presence. You want to surround yourself with people who are creative and conscious about how they're choosing to tell your story. If you're handing over the keys to your brand, be careful who you give those keys to.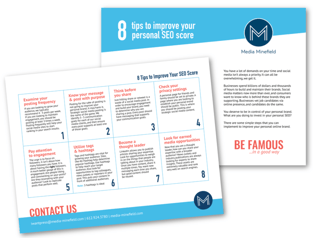 A successful personal brand builds trust, relationships, transparency, confidence and authenticity. For more expert tips on how to tell your story more effectively on social media, click here.